Menu planning is your best friend, especially when you have a chronic illness or disability. It makes grocery shopping a far less painful and much more efficient event (hugely important for those of us who are prone to limping when we walk too long), and it turns daily meal preparation from a stressful hassle into a quick and easy routine--most of the time. Those of you who have never been sick or stressed or busy (email me! I want your secrets!) may not realize it, but there are times when life gets in the way and your menu plan flies out the window.
Since those days have happened to me more often than not in the last couple of months, I have written a lot of flexibility into my menu plans recently. Unfortunately, I can't tell the future (yet) so despite the flexibility in my menu, there are still days that I find myself scrambling to figure out dinner. Fortunately for you, dear readers, those scrambley days often lead to creativity out of necessity which, more often than not, leads to development of a new recipe. Case in point: tonight's dinner.
Last night I planned to roast a chicken, potatoes, and broccoli on a sheet pan. I ended up spending the majority of my afternoon and early evening working on a
Home Ec 101
post while trying to will myself to have an appetite. I ended up kind of forgetting to cook the chicken and made a roasted broccoli and baked chicken (breast) pasta instead.
Problem solved, hands wiped, but a problem remained: I needed the leftover meat from the whole roasted chicken for tonight's dinner of Asian style chicken salad. I had no intention of heating up the whole house to roast the chicken Julia's way, so I decided to cut it up, marinade it to make it Asian-ish (my political correctness is totally showing), and share the recipe with you.
Chinese-ish Pan Roasted Chicken Pieces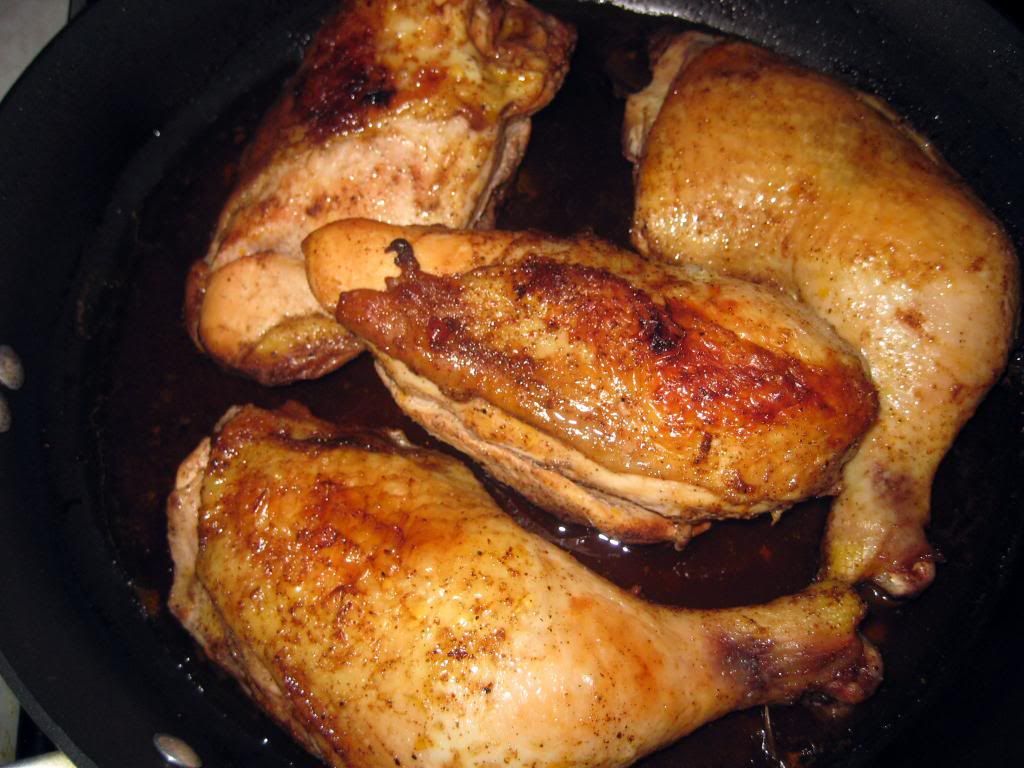 1-5 pound roasting chicken (or 5 pounds chicken pieces)
1 teaspoon garlic powder
1 teaspoon chili powder
1/4 cup soy sauce
2 tablespoons brown sugar
3 tablespoons rice wine vinegar or apple cider vinegar
1 tablespoon Worcestershire sauce
2 tablespoons vegetable oil
black pepper, to taste

Mix garlic powder, chili powder, soy sauce, brown sugar, vinegar, Worcestershire sauce, vegetable oil, and pepper in a gallon sized plastic bag. If using a whole chicken, remove the spine and quarter the chicken. Place the chicken pieces in the plastic bag with the marinade and allow them to marinate for 30 minutes.
While the chicken marinates, preheat oven to 450 F. Once the oven is heated and the chicken is marinated, arrange the chicken pieces skin side up in a large skillet (I used a 12" saute pan). Pour half of the marinade over the chicken pieces and discard the rest. Bake the chicken for 35 to 45 minutes, or until the chicken's juices run clear.