I was born in Cocoa Beach, Florida, the land of rockets, drunks, and awesome Cuban food. Every weekend after church with my grandparents, I went to breakfast at a restaurant called Roberto's. As a young child, I ordered grits or pancakes or something equally mundane and hard to mess up. When I got a little older, I started going to church at 11 instead of 8. On top of giving me an extra two hours of sleep, the later service afforded me the opportunity to learn that Roberto's had a life beyond breakfast food.
Since I was not very knowledgeable about Cuban food, I would often pick something that sounded interesting and hope for the best. More than a few times, this led to disappointment when I was presented with bits of the animal that are best used for pet food--and rice and beans, of course. Once I was presented with a Cuban sandwich, however, my roulette style of ordering was quickly abandoned. After a couple of months, I stopped having to order. Life was good.
Suddenly, I found myself uprooted to South Carolina where there was no Cuban food to be found. Disappointed, I willed myself to forget about the ambrosia of sandwiches--and I did. A few years later, out of the blue, my mother came home from work with a Cuban sandwich, which I eyed suspiciously. "Where did you get this?" I asked. "Publix. Wanna split it?" She heated it up in the oven and I sullenly ate half of my half of the not-very-good sandwich. When I was finished, I put the leftovers in the fridge to eat later.
Later came and went, and I was starving. I padded to the kitchen and pulled out the cold sandwich and began to eat. And that's the story of how I discovered my favorite sandwich: the cold Cuban.
I live in New Jersey now, the land of no Publix supermarkets and not very delicious Cuban restaurants, so I don't get my favorite sandwich very often. Every now and then, however, cravings take over and lead to me buying a pork loin and making one at home, but my dislike of touching pork limited these cravings. That is, until I discovered that I can make the pork in a slow cooker. Now I'm passing the curse of that knowledge on to you! Enjoy!
Homemade Cuban Sandwiches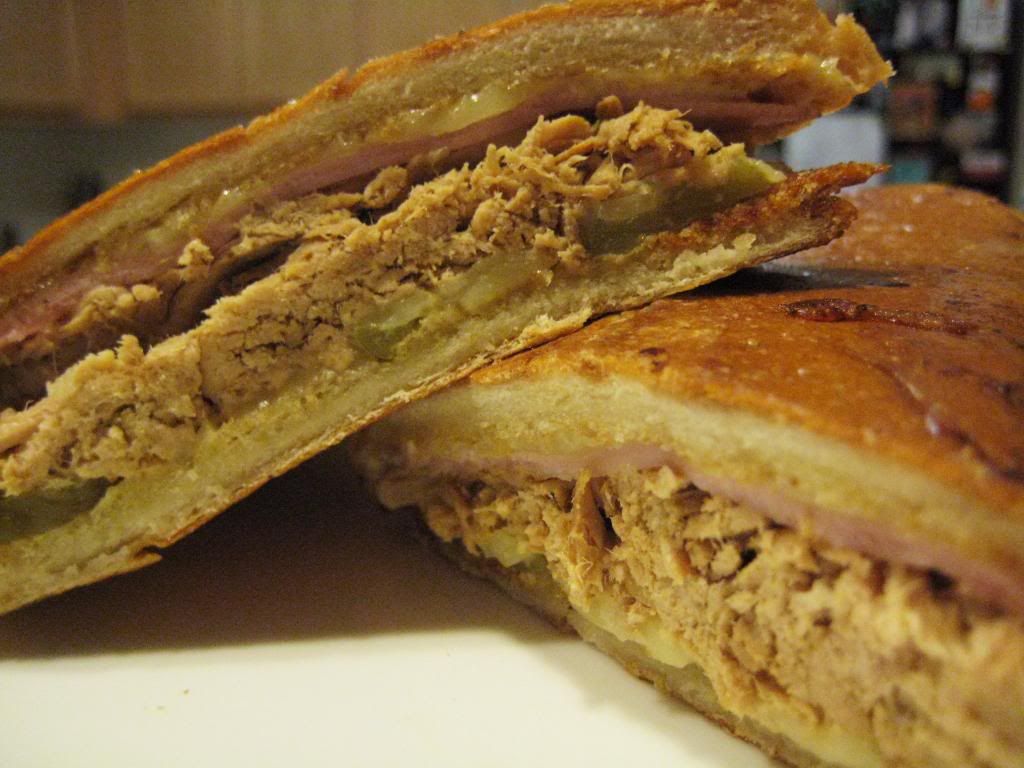 This sandwich is the best approximation of my childhood favorite. It's great hot, but the flavors really meld in the refrigerator. Use that to your advantage and make extra sandwiches for lunch, then serve cold. Trust me, no one will complain unless they keep Kosher, therefore, I don't recommend you bring this to your Bubby. But you know what that means: more for you! Each sandwich serves 4 normal people or 2 people with an appetite like my husband's.
1 loaf Cuban or Italian bread, halved lengthwise
4 tbsp butter
1/2 recipe shredded pork (below)
1/2 lb ham from the deli
1/4 lb Swiss cheese
sliced pickles, to taste
mayonnaise, to taste
mustard, to taste
For the shredded pork:
2 pork loins or 1 pork shoulder
1 large onion, sliced
4 cloves garlic, crushed
1 cup orange juice
1/4 cup of lime juice
2 tbsp of Worcestershire sauce
1 tsp cumin
1 tsp adobo
1/2 tsp chili powder
1 tsp Old Bay (optional, I just threw it in)
salt and pepper
Place all ingredients in the slow cooker. Cover and cook on low for 6-8 hours, or until falling apart. Allow to cool slightly, drain the liquid from the meat, and then squeeze the meat to remove any excess moisture.

Spread 2 tbsp of the butter on both halves of the bread. Place the bread under the broiler and toast until browned and crispy. Watch it to avoid burning! Allow the bread to cool before continuing.
Spread both sides of the bread with mayonnaise and mustard. Place as many pickles as you like on one piece of the bread, then top with two slices of the Swiss cheese. Top the Swiss with two pieces of the ham, then top the ham with about one cup of the shredded pork. Top the pork with the other half of the bread and smash the sandwich with your palms (juice will run out). Slice the sandwich in half.
Heat 1 tbsp of the remaining butter in a large skillet over medium-high heat. Once the butter has melted, place one half of the sandwich in the skillet. Take another pan and use it to smash down the top of the sandwich as it cooks. Once you smell toast, flip the sandwich and repeat the process with the other side. Remove to a cutting board to cool.
Add the remaining 1 tbsp of the butter into the already hot skillet. Toast the other half of the sandwich as you did with the first half. Before serving, slice both sandwiches into halves.