Before I start this post, I want to give a big, public "Thank you!" to my friend Cara for her help with my "bleh" food photographs. In case you haven't noticed, I haven't had to use the ugly food tag ever since I started using her tips some weeks ago; I was even able to get a tasty looking picture of pollo fundido using my point and shoot! Check out her blog, Simply: Homemade Life, if you're in the mood to drool all over your keyboard. ;-)
If you're like me, you've had at least one experience in cooking where you have ended up disappointed in the end result. Not because you messed anything up, or because you made substitutions, but because you made assumptions. Well, you know what they say about assumptions.
Last night I made the calzones, as planned. They turned out well--inside. The crust was nearly inedible; it was sour from resting in the refrigerator overnight, it didn't roll out the way pizza dough usually does, and it decided that it didn't like my seal. Oh, and it wouldn't brown. Ugh.
Nonetheless, the filling was absolutely delicious. It could have only been made more delicious by the addition of balsamic vinegar, so I'm including that in the recipe. (There I go with the assumptions again!) I'm going to share the recipe with you for the filling, but until I give the calzones another shot this weekend or early next week, I'm not going to provide you with a dough recipe. In theory, you should be able to use your favorite regular (
not
thin crust) pizza dough recipe. In practice, I'm thinking that Tyler Florence's focaccia dough might make an excellent crust. I'll update the recipe next week to include the crust, but until then...
Spinach Alfredo Calzones with Turkey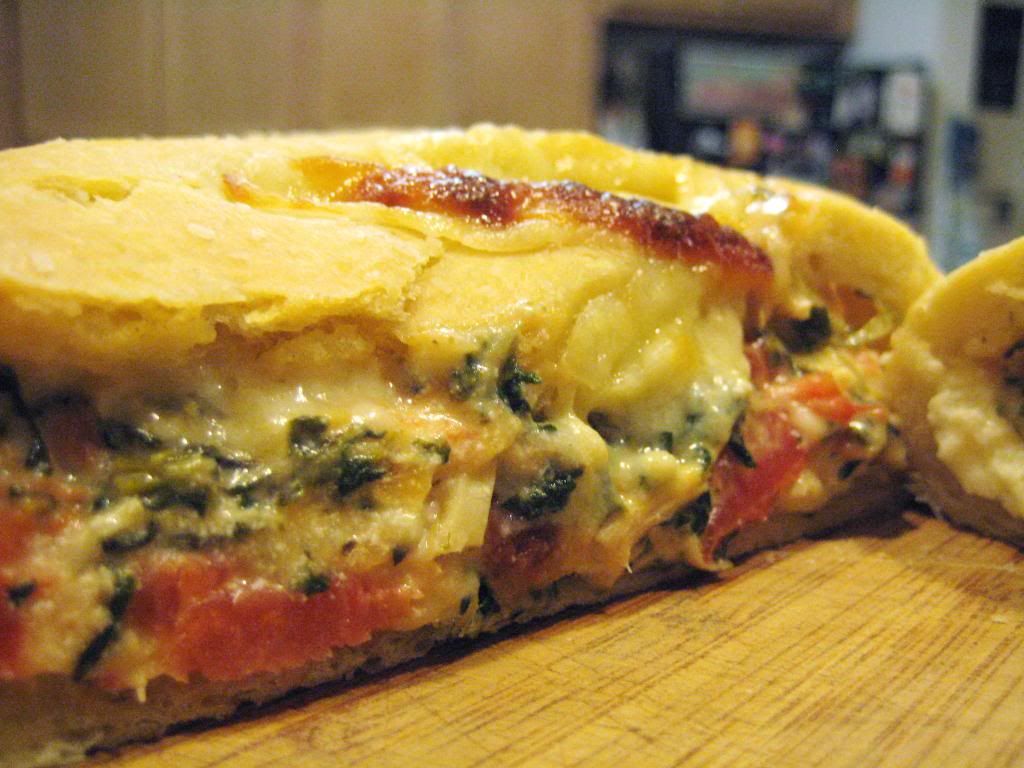 Note to self: pictures on cutting board =/= easy to color correct
This calzone filling also makes a delicious combination of toppings for a white pizza. Just roll out the dough, top with alfredo sauce (and seasoned ricotta, if desired), then follow with spinach, tomatoes, turkey or chicken, and mozzarella/provelone. The calzones can be served with a side of red dipping sauce, but we enjoyed them plain. Each calzone made as directed is large enough for two hungry adults; divide the dough and ingredients into quarters rather than halves to make each one a (large!) single serving.
1 batch of your favorite pizza crust, preferably not left to ferment overnight
1 tbsp olive oil, plus extra for brushing
3 fresh (or 1 can) tomatoes, deseeded and chopped if fresh, drained if canned
1-10 oz. box frozen (or 3 cups fresh) spinach, defrosted and fully drained if frozen
1 tsp dried oregano
1/2 tsp garlic powder (or 2-3 cloves fresh garlic)
1-2 tbsp balsamic vinegar (use more if your balsamic is sweeter)
1-2 cups cooked, shredded turkey or chicken
1 jar or batch of your favorite alfredo sauce
12 oz. ricotta cheese
1/2 tsp chili powder
1 + 1/2 tsp kosher salt (use less if desired)
1 tsp dried basil
fresh ground pepper, to taste
2 cups mozzarella or Italian/pizza cheese blend
Prepare the pizza crust dough according to instructions. After it has risen, divide it into halves and then allow to rest for about 10 minutes.
Preheat the oven to 400.
Meanwhile, add 1 tbsp olive oil to a large pan set over medium-high heat. Add the tomatoes and cook, stirring frequently, until cooked down (or if canned: until they no longer smell metallic), about 5 minutes. If you are using fresh garlic, add it now. Stir in the spinach, oregano, garlic powder, and 1 tsp of the salt. Allow to cook an additional 3 minutes, or until fragrant.
Push the tomatoes and spinach off to one side of the pan. Add the balsamic to the empty side of the pan to deglaze, then stir in the shredded turkey or chicken. Stir until heated through, about 2 minutes.
Remove pan from heat and stir in alfredo sauce. Set aside (over low heat, if needed).
In a medium bowl, mix the ricotta, chili powder, the remaining 1/2 tsp kosher salt, basil, and pepper.
On a floured surface, roll your balls of dough out into two large circles, about 10-12" in diameter; no need to measure, just eyeball it. Brush circles with olive oil, leaving a 1/2 inch boarder of unoiled dough around the circumference for sealing. Spread half of the ricotta mixture onto half of the circle of dough, again keeping the circle's edges clean. Top the ricotta with half of the turkey-alfredo mixture, then top with one cup of the mozzarella cheese. Add additional parmesan, if desired.
Carefully fold the naked side of the calzone over the filling, lining up the edges as best as you can. Crimp with a fork or your fingers, then fold the edges over like a pie crust and crimp again. Using your hands or a bench scraper, transfer the sealed calzone to a lined or cornmeal coated baking sheet. For extra crispness, cut steam vents in the top; bonus points if it's decorative! Brush the top of the dough with additional oil, then sprinkle with salt, if desired.
Repeat the process with the second dough round and the remaining ingredients.
Bake at 400 for about 30 minutes, or until the crust has browned and the cheese in the steam vents is bubbly and delicious. Cool on a rack for at least 10 minutes before eating to avoid burning your face off.
Serves 4.